There has been an awful lot in the news and on social media in recent months about the state of the Great Barrier Reef. There are clearly an awful lot of people who care about it, but – let's be honest here – maybe you just don't. What's it got to do with you? Sure, it's big, got a lot of colourful fish and stuff, but really, it makes no difference to you whether it lives or dies, right? Or does it?
Let's start by doing a quick fact check. The Great Barrier Reef (GBR) is the largest living organism on earth, stretching 2300 km along the coast of Queensland and can be seen from space. The GBR Marine Park covers 344 400 km2, bigger than Tasmania and Victoria combined. It is home to over 5000 species of coral, fish, dugongs, turtles, dolphins, whales, rays and other creatures. But maybe you're just not interested in its World Heritage value and natural beauty.
Since the 1890s, the Reef has become a major tourist destination,1 now contributing over $5 billion to the Australian economy, employing 64 000 (full-time-equivalent) people.2 That's a lot of families depending on the Reef for their livelihoods. What happens to them if the Reef continues to deteriorate and no longer attract visitors? The government has no plan to find them alternative jobs. Still, not your job at risk, is it?
Coral reefs protect coastlines from the damaging effects of wave action and tropical storms,3 helping to prevent shoreline erosion and damage to coastal infrastructure, that is, buildings, roads and other structures, saving on reconstruction costs. This natural barrier is keeping your home insurance premiums down.4 Starting to have some impact on your hip pocket?
The GBR is a massive ecosystem. One-third of all marine life spends at least part of its life cycle on a reef.5 This includes commercial species of fish that end up on our dinner plates. An ecosystem is as delicate and precariously balanced6 as a house of cards: take a couple of small species off the top and perhaps it won't make much difference, but if you knock out too many supporting species from the bottom of the pyramid (the corals that offer food and shelter to so many other species), the whole structure is likely to collapse, taking with it the valuable food species, and you're left with just the predatory survivors such as the crown-of-thorns starfish7 – not very appetising in your Christmas seafood buffet.
The Reef is of great cultural, spiritual, economic, social and physical value to Aboriginal and Torres Strait Islander peoples who can demonstrate thousands of years of connection to the Reef.8 Modern development and agricultural activities by European settlers (or invaders, but let's not get into that here) have put great pressure on the resilience of the Reef. Is that another thing we ought to say sorry for?
Perhaps you still don't see the relevance to you. Well, the GBR is the proverbial canary down the coal mine: if damage to the Reef is so clearly visible, we need to take it as a serious warning about the scale of the threat that climate change poses to all of us. Are the heat waves, heavy storms and extreme bushfires of recent years not enough to convince you that we need to take action? Then, surely, the potential loss of the world's largest living organism should be. If it is deteriorating, then so too are other ecosystems that we depend on for food and water9 – and that will affect you and your family, even if you haven't noticed that yet.
The health of the Reef is affected by many factors including sediment run-off and pollution from agricultural land and urban development, over-fishing, shipping and tourist traffic10, but the most significant threat is climate change: the water is becoming warmer and more acidic, evident particularly in the far north where other factors are not present. Even a single degree of temperature increase above normal maximum temperatures over several weeks such as occurred over summer 2015–16 can cause stress to corals, resulting in bleaching.11 Prolonged high temperatures can kill corals. None of these facts are in dispute. Despite some apparent controversy about the extent of current damage to the GBR,1213 no one disputes that there is damage or that the long-term outlook for the Reef from runaway climate change would be bleak. There is evidence from previous bleaching events that corals and their reef ecosystem can recover if conditions return to more favourable levels.14 But the trend in sea temperature over the past century has been relentlessly upward15 (see graph) and unless we, the human race, take serious and rapid action to halt climate change, it will be too late for coral reefs – they will simply be unable to tolerate the heat. If Sir David Attenborough says the Reef is "in grave danger"16, is there another kind?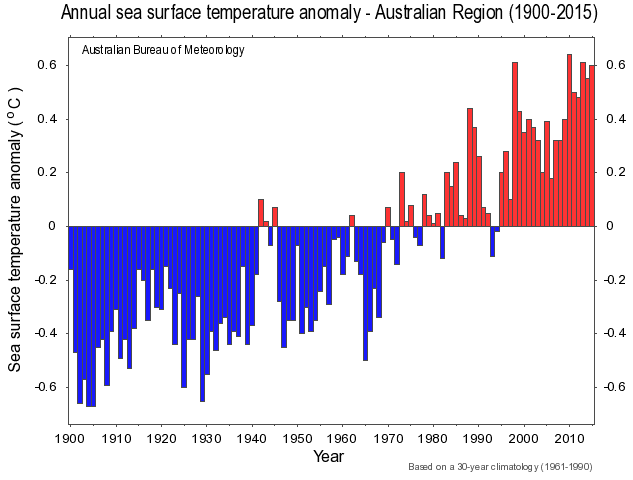 Sea surface temperature in the Australian region has risen fairly steadily over the past century. (Source: Bureau of Meteorology15)
Labor, Liberal and the Greens have all pledged funds to preserving the Great Barrier Reef. But as Bill Shorten rightly said on ABC TV's Q&A on Monday 13 June17, "pledging money, that's good, but if you've got climate change policies which do nothing about climate change, it's just a billion dollar bandaid of neglect". "The reef and … climate change … are inextricably linked." "People somehow think that dealing with climate change is a debate between environmentalists and business: it's not. Not dealing with climate change will have an impact on the bottom line of family budgets. Not dealing with climate change will have an impact on future generations who will have to do more to fix it up."
So, now that you do give a $#@! about protecting the Reef, what can you do about it? Vote for a candidate who has policies to cease coal mining and coal-fired power generation because "opening the [Adani Carmichael] coalmine is incompatible with limiting global warming to 2°C, … goals considered necessary for the future of the reef." (biologist Ove Hoegh-Guldberg, professor and director of the Global Change Institute, University of Queensland)18
That candidate is not Liberal–National party who have no intention of withdrawing support for coal mining. Nor is it Labor: despite Labor's emissions targets and policies to transition away from the coal industry, Bill Shorten says "a Labor government is not going to ban coal mining in this country – coal is going to be part of the energy mix for the foreseeable future". His concession is that "a government I form will not spend a dollar of taxpayer money on the [Adani Carmichael] mine. It has to stand up under it's own commercial propositions and its own scientific and environmental propositions".19
And to wrap up this discussion about the Reef and party policies, the Coalition claim on their website that "our work to protect the Great Barrier Reef resulted in the World Heritage Committee declaring last July that Australia was a global role model for the management of World Heritage properties".20 That's a mis-quote. What German Minister of State Maria Böhmer, Chairperson of the UNESCO World Heritage Committee, actually said to Australian Minister for the Environment Greg Hunt was "the Great Barrier Reef is a unique treasure which we must preserve for future generations. It is important that we have a sustainable, properly funded and long-term strategy. I have the impression that the international community expects Australia to be a role model for other countries. If Australia lives up to these expectations it will send an important signal" and "that it was now important to implement the measures which have been announced."21 In May 2016 it was revealed that the Australian Government Department of the Environment requested that UNESCO and UNEP remove all reference to Australian World Heritage sites from the report World Heritage and Tourism in a Changing Climate because of concerns about the impact of the report on tourism.22 Do you smell a rat?
---
Notes and sources
1 Australian Bureau of Statistics
2 Deloitte Access Economics, 2013. Economic contribution of the Great Barrier Reef.
3 Queensland Museum. Biodiscovery and the Great Barrier Reef, 5(a) Importance of coral reefs.
4 WWF. Coral reefs: importance.
5 Marshall J, 2016. In pictures: a close-up look at the Great Barrier Reef's bleaching.
6 Great Barrier Reef. Great Barrier Reef food web.
7 Great Barrier Reef Marine Park Authority. Crown-of-thorns starfish.
8 Great Barrier Marine Park Authority. Heritage.
9 IPCC, 2014. Summary for policymakers. In: Climate Change 2014: Impacts, Adaptation, and Vulnerability. Part A: Global and Sectoral Aspects. Contribution of Working Group II to the Fifth Assessment Report of the Intergovernmental Panel on Climate Change, Field, C.B., V.R. Barros, D.J. Dokken, K.J. Mach, M.D. Mastrandrea, T.E. Bilir, M. Chatterjee, K.L. Ebi, Y.O. Estrada, R.C. Genova, B. Girma, E.S. Kissel, A.N. Levy, S. MacCracken, P.R. Mastrandrea, and L.L.White (eds.). Cambridge University Press, Cambridge, United Kingdom and New York, NY, USA.
10 Great Barrier Reef Marine Park Authority. Pressures facing coastal ecosystems.
11 Great Barrier Reef Marine Park Authority, 2015. Coral bleaching: fact sheet.
12 Lloyd G, 2016. Reef whistleblower censured by James Cook University, The Australian, 11 Jun 2016.
13 Cousins G, 2016. Are Australians really prepared to let the Great Barrier Reef die?, The Canberra Times, 10 Jun 2016.
14 Hoegh-Guldberg O and Ridgway T, 2016. Coral bleaching comes to the Great Barrier Reef as record-breaking global temperatures continue.
15 Bureau of Meteorology, 2016. Annual sea surface temperature anomaly – Australian region (1900–2015).
16 BBC, 2015. David Attenborough's Great Barrier Reef, ABC TV 24 Apr 2016.
17 ABC, 2016. Q&A: Bill Shorten, 13 Jun 2016.
18 Taylor L, 2015. Australia on the spot over Adani mine and funding of Attenborough reef series, The Guardian, 10 December 2015.
19 ABC, 2016. Q&A: Bill Shorten, 13 Jun 2016.
20 Liberal Party, Issue 14: Protecting our environment.
21 Federal Foreign Office of Germany, 2015. Minister of State Böhmer meets Australia's Environment Minister, 2 Feb 2015.
22 The Guardian, 2016. Australia scrubbed from UN climate change report after government intervention and The Union of Concerned Scientists World Heritage tourism sites climate change risks
23 ABC, 2016. Q&A: Bill Shorten, 13 Jun 2016.
Australian Government Department of Environment 2009. Australia's biodiversity and climate change: the Great Barrier Reef and climate change.